Why do older people repeat themselves
How old people in Germany react to Corona
Werner Reuter is torn back and forth. For the evening he has planned an event for seniors: several artists and several guests together in one room. "I thought for a long time whether I could take on this responsibility," says Reuter. On the one hand, he had long been preparing the "Open Stage by and for Seniors", invited the artists and booked the space in Bonn's old town On the other hand, he knows that the spread of the coronavirus is a particular danger for his guests, because everyone is over 60 years old.
Werner is an art educator and, at 72 years of age, belongs to the risk group in which infection with the coronavirus can have a particularly dangerous course. However, since German authorities did not prohibit events with fewer than 1000 visitors, Reuter ultimately decided to hold its "Open Stage" on Wednesday, March 11th, in a senior citizens' meeting place in Bonn.
To minimize the risk of infection, there are lists on the tables. The guests of the event should sign it up. "If someone should become infected, I can at least inform everyone else quickly," says Reuter. This way he can understand the chain of infection. His wife also gives him further safety information on the way: no hugs, keep your distance!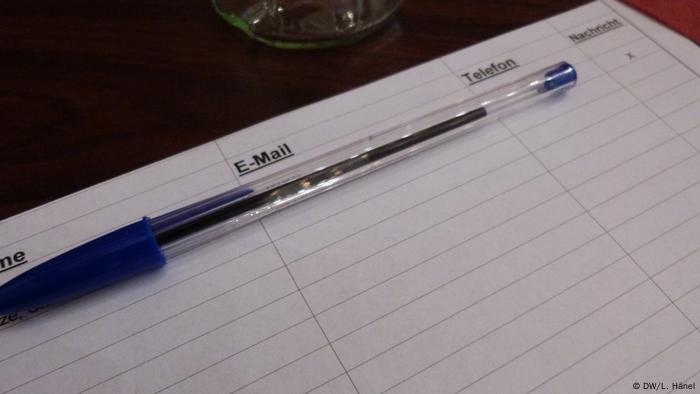 All visitors of the evening should enter themselves on a list in order to keep an overview in the event of a corona infection
Fear of loneliness
Only once does Reuter fail to heed his wife's advice when he embraces an old friend. Otherwise, he actually tries to keep his distance and greets some guests with a smile with the "Corona greeting", i.e. with his elbows.
The people who are slowly filling the event room that evening are in principle aware of their susceptibility to the coronavirus, and yet they did not want to stay at home. "My daughter has indicated that I shouldn't come here, but I didn't want to cancel my performance," says 72-year-old Marion, who writes her own poems and will read them aloud. Marion suffers from a pre-existing bronchial disease.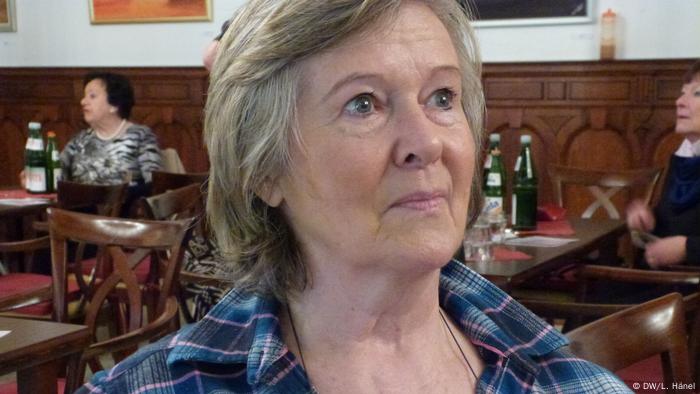 Marion reads from her poems that evening
Lothar Heinrich also wanted to be with people that evening. "I recently had an operation and had to stay at home for a long time. I don't want to repeat that". And then he adds with a defiant grin: "I'll have to die someday anyway".
Werner Reuter knows the problems of his guests: "Especially for older people this becomes a problem when they can no longer meet with others." But he also notes that there are significantly fewer guests than usual, around 18 people up to 70 people. "It's good that I prepared fewer chairs," he says.
Germany's old population
Since Wednesday, the number of the situation has worsened. It can therefore be assumed that many seniors are now less self-conscious about the topic. And rightly so. The analysis of the affected cases shows that the virus becomes more and more dangerous with age. The news portal Vox evaluated the death rate of corona cases in the particularly affected Hubei province in China between January and February. Up to the age of 60 the mortality rate was less than two percent, between 60 and 69 years it was 4.6 percent, between 70 and 79 years it was 9.8 percent and among those over 80 years of age it was even 18 percent.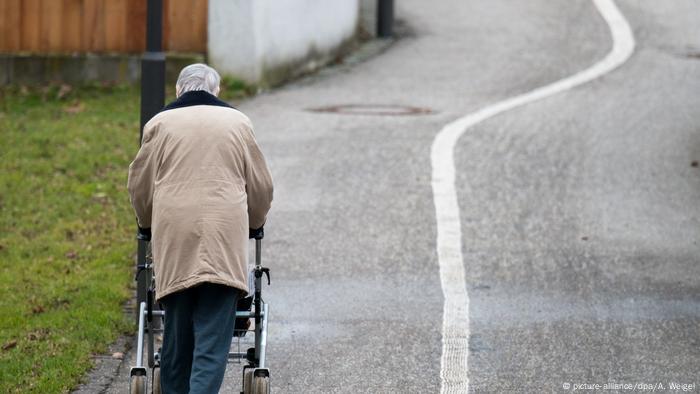 Germany has one of the oldest populations in the world
The Berlin virologist Christian Drosten comes to similar results. He assumes a mortality rate of between 20 and 25 percent for people over 80. The first deaths in Germany also indicate the increased risk for older people. In North Rhine-Westphalia (NRW), an 89-year-old woman and three other over 70-year-olds died. In any case, NRW is hardest hit of all federal states: there were over 1400 confirmed cases on Friday afternoon, over 20 of them in Bonn, where Reuters "Open Stage" takes place.
Germany is also alarmed by this risk group of older people, as the nation as a whole has a particularly old population. In the European Union, only in Italy are people on average older than in Germany. Almost 18 million in this country are over 65.
Dealing with old people's homes
This is one reason why people in Germany are particularly concerned about retirement homes, where they want to avoid horror scenarios like the one in Brussels: There, 34 people were infected with the corona virus in an old people's home.
In the German federal system, the individual federal states primarily decide which corona protective measures to introduce. On Friday afternoon, the Bavarian government decided to limit visits to old people's and nursing homes for relatives. At that time, Bavaria was the only federal state with such a drastic measure.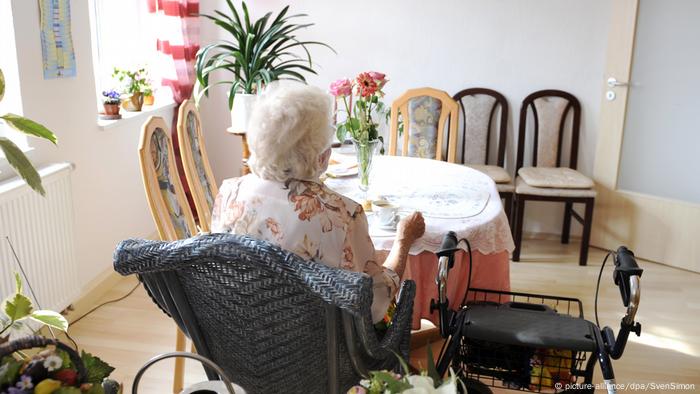 It is particularly difficult for old people not to receive visitors
But old people's homes in Bonn also prepared themselves against the wave of infections. "We restrict the access of external companies, for example craftsmen. We also appeal to relatives to consider whether the visit is really necessary," says Marcel Zielinski, head of the private facility CMS Domhof Care Foundation.
Events are also gradually being canceled. "We prefer individual offers rather than group offers to prevent loneliness." The issue occupies the residents, "but nobody panics yet," adds Zielinski.
Up until then, visits were not limited to the Haus Elisabeth residential home for the elderly either. It was difficult to make this decision, because "of course it is also important for the residents to be able to see their relatives," explains the director, Michael Claßen. All relatives have been informed that one should only visit the facility if there is no sign of a cold. In addition, disinfectants are pointed out more strongly than usual. Otherwise, further recommendations from the Bonn health department are being listened to. In the meantime, old people's homes and nursing homes and hospitals are no longer allowed to be visited in North Rhine-Westphalia.
Resolute against Corona
Many seniors also pay more attention to hygiene measures. Werner Reuter has to laugh when he notices how often he washes his hands: "I come home, wash my hands and notice that I still have to take off my shoes. So I do that and then I wash my hands times ". Even those who have a lot of contact with seniors notice changes in their behavior." In the past, the elderly went shopping with us, now they often prefer to give us the shopping list and stay at home themselves, "reports an employee of a care service from Bonn.
When it comes to shopping, many people get creative even in old age. In order to avoid contact with people in the supermarket, Elka, an 83-year-old senior citizen from Cologne, rode her bike to the market square this week, only to find that many salespeople did not show up. Now she goes to the supermarket after all, but outside of peak hours. You could also ask family or neighbors to go shopping. In some supermarkets you can also order products online: "There are so many options".
But by no means all will be able to go through the infection time so resolutely. Experts therefore advise not to lose sight of older neighbors, to help with shopping, or simply to stay in contact, be it in person, by phone, or with the help of personal notes in the stairwell. Maintaining contact is important precisely because it is not yet known how long the infection crisis will last.
Be calm but careful
In Germany, older people have so far been "relatively relaxed" with the discussion about Corona, says Claudia Schacke, a senior scientist from the Catholic University of Social Sciences in Berlin, from the Catholic News Agency. The reason for this: You are experienced and have already been through other crises.
You can see that at the "Open Stage" in Bonn. During the event, Werner Reuter appears in front of the audience and reads from an enigmatic letter. It says: "Dear human (...) I am so incredibly fast. So comprehensive. I want to hug the whole globe "and further:" Make yourself at a loss - oh man. Make your world tremble. (...) Your Corona ". Guests laugh and clap. Reuter says: "My wife said I should write something on this sad subject".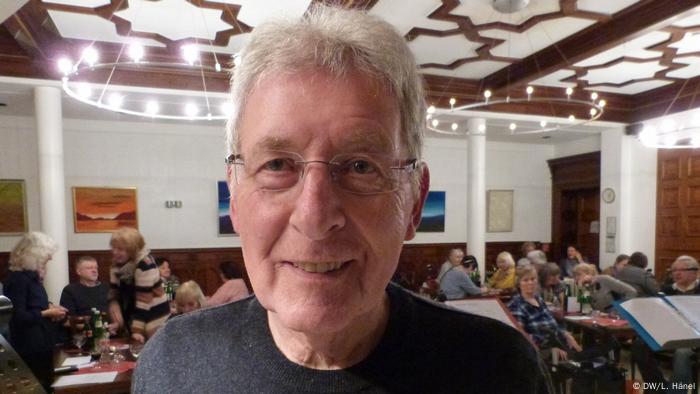 Werner Reuter tries not to lose confidence
But after that evening he too had to regret to find out that it doesn't make much sense, he says, to organize events for senior citizens. For health reasons and also because so few come. On his initiative, another event in the Bonn senior citizens' meeting has now been postponed, initially for an indefinite period. You can hear it from him, he thinks it's a shame not to bring people together with art. But he has a different idea, Werner Reuter quickly adds, and his voice becomes lively and passionate again: "When all of this is over, then you have to say: let's celebrate a very big party and make contacts with others even more than ever before care for".
Collaboration: Lisa Hänel