Chinese people drink coffee
Wong Yucheng (l.), General Brand Manager at Twinings,
and Charles Arthur Smith, Twinings Brand Ambassador for Southeast Asia
Wong:
"It is true that a lot of green tea is drunk in China, but in fact the Chinese like to drink a wide variety of other types of tea, for example black tea, which is popular in Europe. Our bestsellers from Twinings here in China are English Breakfast Tea and Earl Gray. "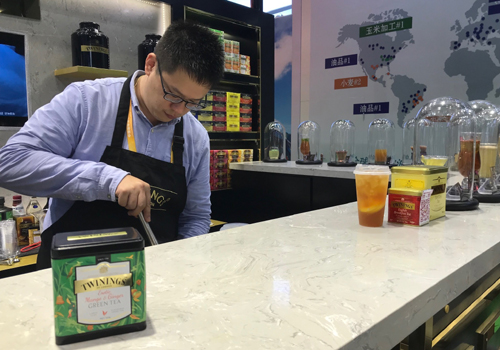 Smith:
"Our traditional company, which has been in existence for more than 300 years, has been active on the Chinese mainland since 2000 and our tea blends, which also contain fruit, flowers and other spices, have been growing steadily since entering the market. Ultimately, we would like to bring a piece of British tea culture to China, the home country of tea, through our products and thus contribute to the culinary cultural exchange. "
Prejudice number 2: The Chinese can't stand hard liquor.
Fact check with Jiri Mihel from L'OR Absinth from the Czech Republic: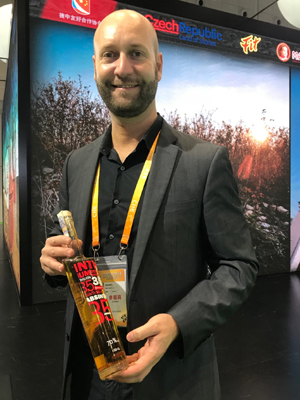 "We at L'OR are one of the largest absinthe producers in the Czech Republic. Absinthe is an alcoholic drink that is traditionally made from wormwood, anise, fennel and, depending on the recipe, a range of other herbs. The alcohol content is usually between 45 and 85 percent by volume and is therefore in the upper range of spirits. We have also been selling our products in China since 2012, and the business is doing well.
Although there is a prejudice in the West that the Chinese cannot tolerate alcohol, the fact is that the people here themselves have a whole range of domestic spirits with a high alcohol content, which are summarized under the term Baijiu. Some of these schnapps have an alcohol content of 50 percent.
The Chinese appreciate and tolerate high-proof beverages. Instead, we have found that people here tend to go to their heads with certain types of beer with a high alcohol content. Our bestseller in China is the "35" variety, which is based on a special recipe made from 35 herbs. The alcohol content is 70 percent. "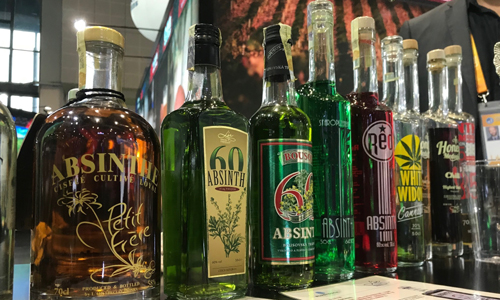 Prejudice number 3: the Chinese don't drink coffee.
Fact check with Pietro Viganò, Export Manager at Dallmayr Kaffee from Munich: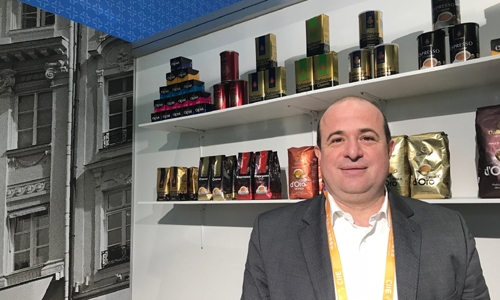 "More and more Chinese are discovering coffee as an alternative to tea. Younger people and those with better incomes in particular have got a taste for coffee. That is why we, as a traditional German roasting company, decided to come to China and present our products at the CIIE. We are just about to enter the Chinese market.
The fact is that the Chinese coffee market is growing steadily. In metropolises like Beijing or Shanghai a lively barista scene has even developed, in which the art of pouring filter coffee is revived and celebrated. For us as a family company with a long tradition, this offers an exciting opportunity. "
Prejudice number 4: the Chinese don't eat cheese.
Fact check with Hein Raijmakers and Emily Ai from the Dutch milk products manufacturer FrieslandCampina: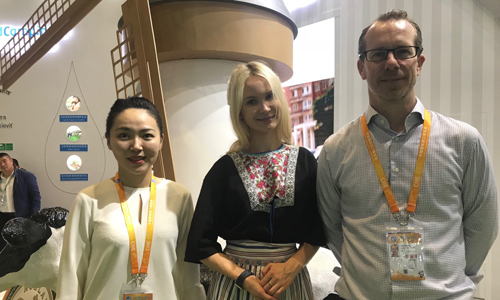 Emily Ai (left), Assistant Product Manager Consumer Dairy, and Hein Raijmakers (right), Marketing Director,
with traditional costume model at the FrieslandCampina CIIE stand
Ai:
"China's market for cheese products is growing steadily. We have seen this in the ten years that we have been active in mainland China. So the Chinese do eat cheese too, with children's products, interestingly enough, making up almost half of the Chinese cheese business. We also have various children's cheese products with mild flavors in our range, which for us as a company represent a good stepping stone to the Chinese consumer. After all, today's young Chinese are tomorrow's cheese lovers. "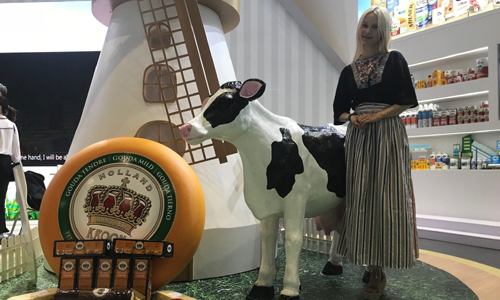 Raijmakers:
"It is true that Chinese customers have so far preferred milder varieties, which we as a company are of course preparing for. But it is also a fact that when it comes to food, people in China are definitely keen to experiment and are open to new taste experiences. Ultimately, this also applies to cheese. We therefore have quite a few spicier varieties in our range in China, even if the market in this regard certainly still has to develop. "
Prejudice number 5: the Chinese cannot tolerate milk.
Fact check with Bob den Hartog from the Danish dairy company Arla: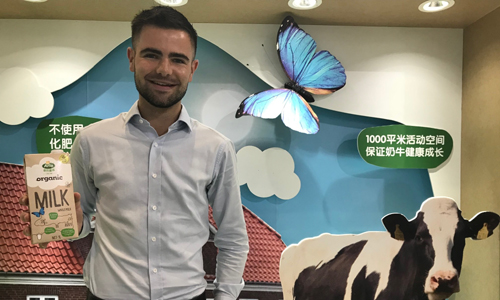 "Current studies actually show that over 90 percent of people in China are lactose intolerant. However, very few Chinese are aware of this, which is why they still consume milk and dairy products. The phenomenon of lactose intolerance is simply hardly known in China.
In any case, people here ultimately only consume around a third of the amount of dairy products that we in the West consume every day. It doesn't matter that much.
Arla has been selling various whey products in China for ten years, including milk and powdered milk, butter and cheese. Our main business is baby food and long-life milk. Our company alone sells over 100 million liters of milk in China every year. We can therefore confidently refute the prejudice that the Chinese do not drink milk. "