Where does the term pickpocket come from?
Pickpockets in Rome: their tricks & how to spot them - 10 tips!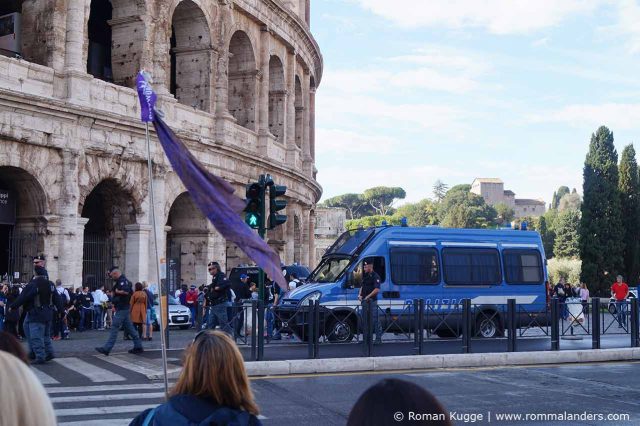 What can you do against pickpockets in Rome? If you tell your friends that you are going to Rome, you will surely hear the following sentence: "Ah, then watch out for the pickpockets!". Such a statement is of course immensely calming when one has just dreamed of Dolce Vita, Aperol Spritz in the street café and the beautiful Italians and charming Italian women! Unfortunately, pickpockets are a real problem in Rome. But you don't have to drive yourself crazy about that. If you follow these 10 pieces of advice, the chances of a pickpocket trying your luck will be greatly reduced. You may not be able to avoid them entirely, but with the right preparation the risk of being robbed is negligible. So here are mine 10 tips to ward off pickpockets in Rome.
Rome: a city with a particularly large number of pickpockets
Are the pickpockets in Rome really a nuisance? Is it really a problem? Or are the pickpockets just a kind of big city legend that is told but cannot be proven? Unfortunately Rome's bad reputation is no coincidence and this problem does exist. There are tons of articles on the subject. The Italian daily Il Fatto Quotidiano reports, for example, that between January and the end of August 2014, more than 2500 reports of a theft were received at Termini station.
TripAdvisor also published a global ranking of the cities with the most pickpockets. The cities with the most pickpockets worldwide are in the order given:
1. Barcelona, ​​Spain - 2. Rome, Italy - 3rd Prague, Czech Republic - 4th Madrid, Spain - 5th Paris, France - 6th Florence, Italy - 7th Buenos Aires, Argentina - 8th Amsterdam, Netherlands - 9th Athens, Greece - 10th Hanoi, Vietnam
As you can see, Rome is right at the top. A placement that the city of Rome would certainly like to do without!
How can you spot pickpockets in Rome?
That is precisely the problem: Unfortunately, you cannot clearly identify them. During a tour that I took in Rome, the guide described the pickpockets as "Gypsies", but they would be dressed just like us. The only difference between them and us would be the size of their hands. "You have smaller hands that reach for anything."
However, there are a few signs that you should be aware of. Pickpockets are usually in pairs or in groups. Pickpocketing often works like this: One in the group tries to distract you (for example, by trying to sell you something) while another helps yourself to your valuables. If something unusual is going on around you, the alarm bells should start ringing for you too. Somebody suddenly speaks very loudly? Someone chatting for some inexplicable reason? Do not be distracted!
It's difficult to tell pickpockets by age. Unfortunately, children also pursue this horrible activity. Caution is advised with groups of girls or boys who, for example, come unusually close to you on public transport.
Do you have to be afraid of the pickpockets in Rome?
No! It would be a shame to let this spoil your vacation or not to go to Rome because of it. As in all other European cities, you just have to be careful. Pickpockets are primarily looking for easy prey. When they see that you are well prepared, they will leave you alone.
In which neighborhoods are the pickpockets up to mischief?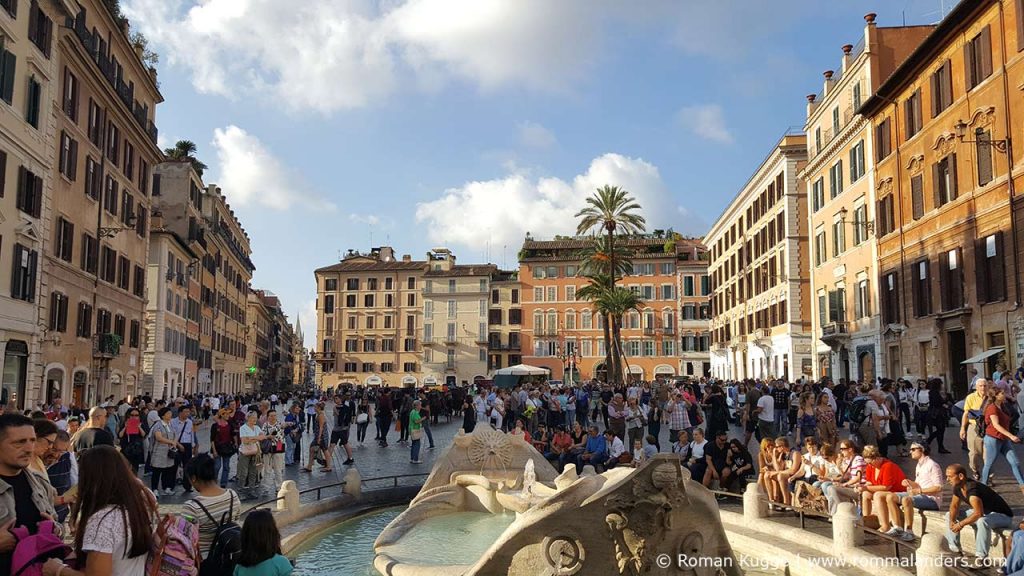 The pickpockets are unfortunately not only in a certain area. Then you could easily avoid them! In general, one can say that they are mainly found in places where there are many people and where they can go about their work undisturbed.
Unfortunately, tourist attractions are usually also places with a particularly large number of people. I recommend that you pay particular attention to the following places of interest:
You should generally be careful when walking in the historic center and on public transport (both on the bus and in the subway). The 64 bus, for example, which runs through the entire city to the Vatican, is used by many tourists and is therefore known for being an absolute pickpocket stronghold. It goes without saying that you have to be careful at the Roma-Termini train station.
At night you are often not as alert as during the day because there are fewer people in the city and you therefore have the feeling that you can react in good time. This is not entirely wrong, but be careful if you have pickled one or the other glass too much! Drunks are easy prey because they are easily distracted. It's more likely that you're doing nonsense with friends than paying attention to what's going on around you.
What are the police doing?
She does what she can! One often hears of the violent arrests of pickpockets caught in the act. A friend told me that she was jostled in the street and then - when she turned around to look at the unpleasant contemporary a few seconds later - she saw two police officers pouncing on the man who had bumped into her. He had her wallet in hand.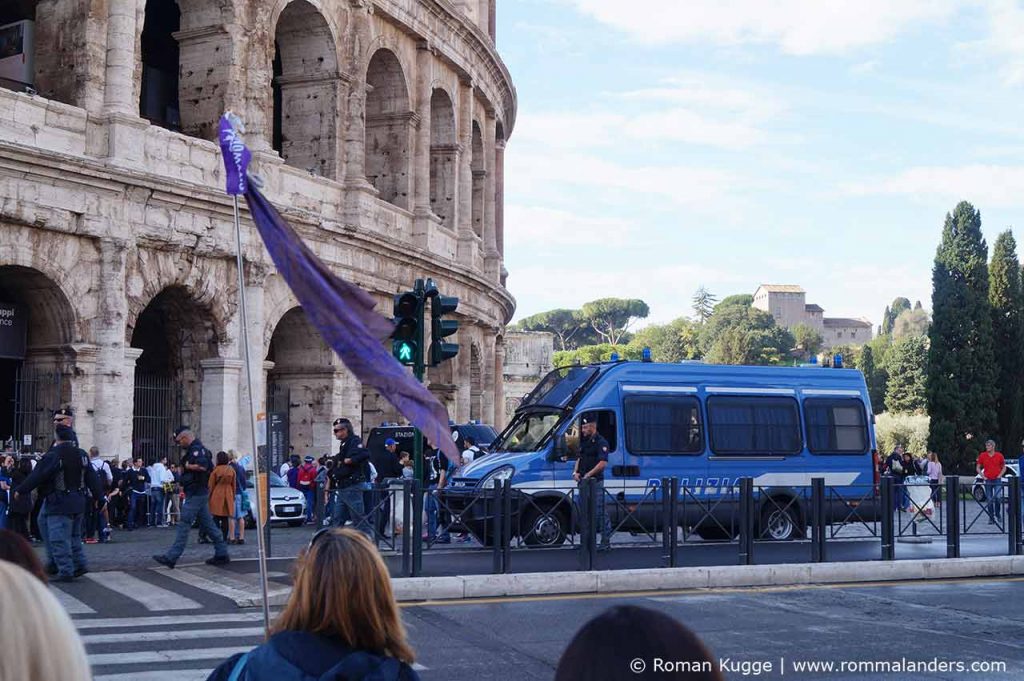 As mentioned in my article Security in Rome, you can expect police presence and protection in all well-visited places. Incidentally, the police presence is much more visible than in Paris, for example, where the police patrols and anti-terrorist units tend to remain in the background despite everything. In Rome, several police vehicles with 5 to 6 Carabinieri are usually parked in front of the well-known tourist attractions. Then there are the plainclothes policemen.
Even if it is of course reassuring that the police are trying to prevent them, they cannot see everything and there are still a large number of thefts every year.
"Do not let it be seen that you are tourists!" - How please is that supposed to work?
Often one hears: "Don't let it be shown that you are tourists!": But if you know how your (sorry for the comparison) butcher in winter, you don't have to be a clairvoyant to realize that you are not Italians are. It's no use trying to pretend you're not a tourist. Do you live in a big city like me? Then you tourists will smell like me at 100 meters against the wind. And the same goes for the Italians with their tourists.
What to avoid is looking like a "stupid" tourist who is traveling for the first time. So please do not have an "I love Rome" T-shirt or a "Viva Italia" cap (you can wear that at home again), do not carry the ice cream in one hand and the camera in the other and several hundreds in your wallet ! Don't speak too loudly in public and don't be so obviously overwhelmed by the structures: "Ooooh, THAT is beautiful! Julia, look, look, look, look! "Pickpockets recognize inexperienced travelers immediately. You will quickly become the next victim of these crooks.
The tricks of the pickpockets
There are so many of them that it is impossible to list them all. Nevertheless, I don't want to withhold the most widespread ones from you:
If one or more people hop on the subway at the very last second, you can almost bet they are one or more pickpockets. They will immediately use the resulting chaos for themselves and try to steal your valuables.
Beware of gangs of beggars or girls: As in France, there are girls in Italy who collect signatures for a good cause in groups. The girls will crowd around you in several. While you are signing, a member of the group empties your pockets unnoticed. The gangs of beggars use the same technology.
If you are jostled for no apparent reason, the alarm bells should go off. Because often enough pickpockets are responsible for jostling for no reason.
You should also know that pickpockets are often in pairs or in larger groups; one distracts the victim while the other empties his pockets. Be particularly attentive in crowded places: At the sights you usually encounter large crowds and so there is inevitably one or the other physical contact. The pickpockets take advantage of this situation to play their perfidious game completely incognito.
Important note for the use of public transport: Pay particular attention here! The bus 64 to the Vatican, which is used a lot by tourists, is also known to be a pickpocket stronghold. And remember the 2500 pickpockets a year at Termini station that I told you about at the beginning of this article.
What can you do about pickpockets? 10 tips!
1. On the terrace
If you treat yourself to a delicious Aperol Spritz in the sun, don't put your cell phone on the table next to you. A brief inattentiveness is enough for trained thieves ... and your cell phone gets legs. It's best to leave your cell phone in your pocket or handbag.
While we're on the subject, don't put your handbag on the floor between your legs or next to the chair where you can't see it. Better keep her safe on your lap. If it is too big, place it on an empty chair next to you and attach the strap to one of the chair legs. So the thief would have to drag the whole chair along if he wanted to grab your handbag. That would be anything but inconspicuous and will certainly prevent him from tampering with your bag.
2. Money & Purse
Don't run around with several hundred euros in cash. Only take as much cash with you as you need for the day, but no more. There are ATMs on every corner in Rome where you can withdraw more cash if necessary.
Some men always carry their wallet in the back pocket of their pants. You should get rid of that as quickly as possible in Rome, as it almost does the work for the little crooks. Put your wallet in one of the front trouser pockets! So you can just put your hands in your pockets at places that are often visited or when you are crowded on public transport and protect your wallet from thieves.
3. Cell Phones
The same goes for your cell phones, of course. Even though almost everyone nowadays uses their cell phone for taking photos, you should stow it away well after use. I often see tourists with their smartphones sticking halfway out of the back pocket of their slim jeans. Such behavior, of course, magically attracts thieves.
4. handbags
Make sure that your handbag is always closed. In both Paris and Rome subway, you can often see girls with open handbags. For pickpockets this means something like "Help yourself, today everything is free!". In short, keep closing your bags after you have taken something out, and it's best to take one with a zipper right away.
Second safety tip: carry your handbag in front of you and make sure that it is always closed. Of course, if you have your bag behind you, there is a much greater risk that someone will steal something from it.
5. Backpack
If you'd rather explore Rome with a backpack than with a handbag, you are of course welcome to do so. However, you should be careful not to keep any valuables in it. Use your backpack only for your clothes, something to drink and your Rome city guide.
In very touristy places you can also carry your backpack on your stomach. That looks a bit stupid at first, of course, but that keeps pickpockets from tampering with your backpack and you will see that you are not the only ones with this special style. Caution is the mother of the porcelain box, or "Better safe than sorry", as they say in modern German.
6. Neck pouch
What to do with the valuables? For example, you can buy a neck pouch. This practical pouch is perfect for storing larger bills, credit cards, ID cards or even hotel keys. Neck pouches are usually quite inconspicuous and are worn under the T-shirt.
Do you think that's ridiculous? To be honest, I have one myself and find it really very practical because it protects all valuables from pickpockets and so you can clear your head for the beautiful things in life and on vacation.
7. Shoulder bag
An alternative to a handbag and backpack is a shoulder bag. Shoulder bags are practical because they are larger than handbags (a sweater or bottle fits in there too), but not as bulky as backpacks. Carry the shoulder bag in front of your body and put your hand on it in a tricky situation.
8. Camera
Some websites advise against wearing the camera around your neck because it supposedly makes you look too much like a tourist. To be honest, I don't know how you could do it any other way - especially if you like taking lots of photos. It would be far too much effort to repack the camera after each photo.
Personally, I have never heard of anyone who had their camera ripped off. If you don't want to wear your camera around your neck, you can wrap the camera loop around your wrist several times. So there is no risk of someone snatching it out of your hand.
9. Do not put your bag on the floor
Do not put your bags on the floor to take a picture of yourself. Of course, photos look nicer without a bag or backpack, but better a photo that is not quite as beautiful as someone runs away with your bag.
This rule applies to both the person being photographed and the photographer. Don't put your bag on the floor to get better on your knees for the photo. The pickpockets love to take advantage of such situations: You are focused on your photo and do not even notice how they are snatching your bag.
10. The city map
If you stop somewhere to orient yourself on a city map or with the help of your smartphone, do not do so in the middle of the street, it is best to stand with your back to the wall of a house. So nobody can empty your pockets while you are focused on the city map!
Also watch out for pickpockets posing as tourists. It sometimes happens that pickpockets queue up, pull out a city map and hold it right in front of the real tourists' noses! Not polite? Clear! But actually they only want to cover their thieves with this maneuver, which are tampering with the pockets of the actual tourists!
Pickpockets in Rome: Summary
Unfortunately, the pickpockets in Rome are a serious problem. You can find them mainly at the major sights (Colosseum, Vatican, historic old town, Trevi Fountain, etc.) and in public transport (subway, bus), both during the day and at night.
Still, you shouldn't let this problem drive you crazy. You can easily escape them. All you have to do is adhere to a few simple safety rules. Pickpockets are primarily after easy prey and will not even try to get you if they see that you are on your guard and well prepared.
If you have a shoulder bag on the front of your body and the loop of your camera always wraps around your hand when you take it out of your pocket, you won't have any problems with these little crooks!