How is premium economy better than economy
Economy Class, Business Class and First Class: What's the Difference?
Most of us are content with economy class, which is also known colloquially as tourist class or wood class. But very few of us have flown first class before. However, getting a seat in business class is not as difficult as you might think.
How to get a free flight upgrade
But it's not that bad in Economy Class, is it? After all, we arrive at our destination and comfort has also improved significantly in recent years. At least when you don't have to squeeze into an ancient airplane, with practically no legroom, a TV for the entire row of seats and overcrowded luggage compartments, so that the bag also has to be stuffed under the seat. We'll show you what you get for your money with normal economy, business and first class tickets. We also take a look at the much sought-after premium economy seats.
Comparison: Economy Class vs. Business Class
The first and most important point: The amount of legroom and the level of luxury offered (if any) depend on which airline you are flying with, which aircraft you are on and whether it is a short or long haul flight.
The subject of long-haul flights gives you a headache? 10 tips for surviving a long-haul flight
Economy class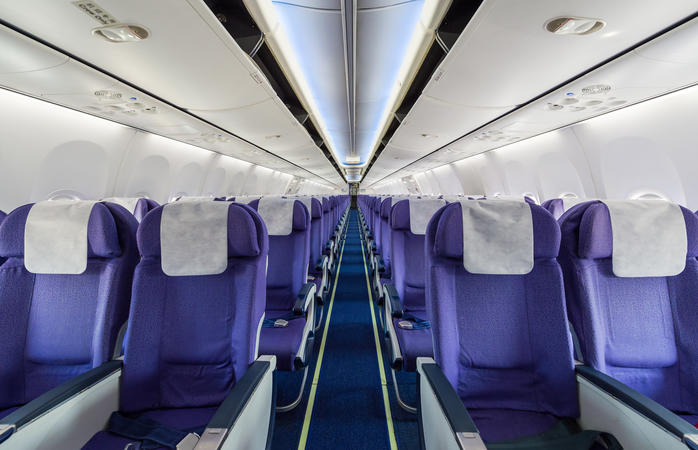 What is Economy Class anyway? Generally speaking: Here you get a seat on an airplane that will take you from A to B. But of course there is a couple of differences, above all seat width and seat spacing (legroom).
The seat spacing varies between 70 and 86 cm, the width between 43 (cozy!) And 84 cm.
There are other differences in terms of factors such as power outlets, WiFi, amenity kits (toiletry bags for passengers), meals, entertainment, type of TV screen and level of service.
Some airlines allow you to use the touchscreen service in-flight. All you have to do is enter your credit card details and select the dishes or items you want - the cabin crew will then bring your purchases directly to your seat.
Economy Class is usually the cheapest option, especially if you forego checked baggage and only travel with hand luggage. Tips for cheap trips and for traveling with hand luggage can be found here:
What you probably didn't know yet: Air New Zealand has a unique economy feature called Skycouch. A row of three seats can easily be converted into a lounger that offers enough space for two adults to lie down. If you're flying in pairs, you can book the third seat to fill the row - for half the price. Brilliant!
Premium Economy Class
To begin with confusing: The Premium Economy Class has different names. Virgin America calls them Main Cabin Select, British Airways uses the term World Traveler Plus and SAS calls them SAS Plus.
But the offer is the same everywhere: Economy class with a little more luxury. And of course at a surcharge - but this is not nearly as high as the flight prices for Business Class.
If you're lucky, the surcharge gives you access to an exclusive lounge at the airport and a seat outside of the economy cabin on the plane. Typically, you get a wider seat with more legroom, a bigger TV screen, better food (e.g. more choices, free drinks, etc.), and more baggage allowance. However, some airlines go a little further on this standard package: e.g. Virgin Atlantic offers
Seat width of 53 cm and a seat pitch of 96 cm
Power sockets on board
faster check-in at boarding and baggage pick-up
Meals à la carte, one drink before departure and one spirit after dinner
an exclusive amenity kit and more. Wow.
Is it worth the price? Well, that depends on the route, the airline, and whether you think the extra few inches, the free drink, or the more food choices make a big difference on the flight.
What you probably didn't know yet: In 1992, Virgin Atlantic was the first airline to include the premium economy concept in its program.
Business class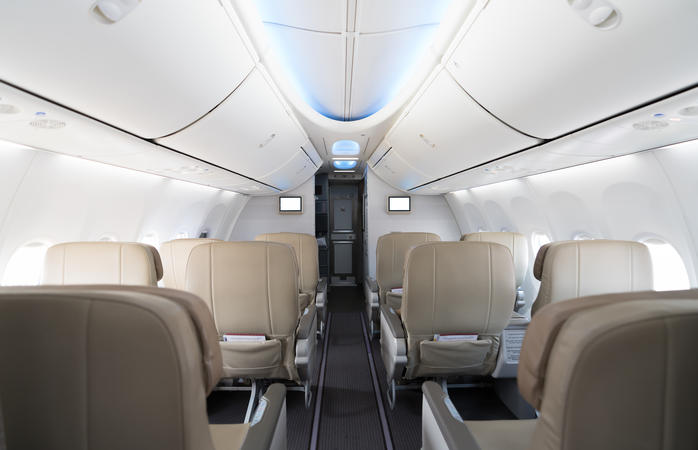 It is said that anyone who has flown business class will never be satisfied with economy class again. While the advantages of Premium Economy Class compared to Economy may not necessarily make the extra charge worthwhile, luxury in Business Class is vastly superior to all the amenities of Premium Economy.
Simply put: everything is better. From the welcome drink (of course in a real glass) to the dishes that are served with real knives and forks on real porcelain dishes (in contrast to the Playmobil equipment in Economy), you will be spoiled from A to Z here. Sleeping seats are standard in Business Class, and this also applies to a seat width of up to 86 cm and a seat pitch of up to 2.20 m.
Some airlines offer chauffeur service for arrivals and departures if you live within a certain distance from the airport, and most - if not all - have an exclusive lounge at the airport where you can stock up on free food and drinks. The best airports and bars and airports worldwide await you here:
The huge Airbus A380 from Emirates, for whom luxury is not too much anyway, is equipped with a complete on-board bar for business class passengers. And we're not talking about a folding table in the galley, but about a real semicircular, fully stocked bar that offers hot and cold snacks and all the cocktails your heart desires. What more do you want? In fact, business class has now become so luxurious that many airlines have completely discontinued their first-class services.
What you probably didn't know yet: The Concorde, which is no longer in use, holds the record time for a flight from Paris to New York. With only 2 hours and 52 minutes, the journey went so fast that on flights going west, due to the time difference, you could arrive earlier than you had left.
First class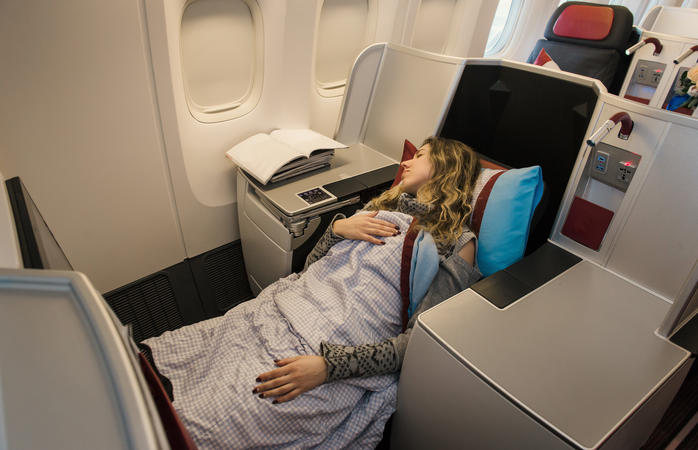 First Class, the pinnacle of all flight experiences, is reserved for celebrities and the super-rich (but the lucky ones also have a chance). Imagine all the comforts of Business Class with a thick cast of pure luxury. Nonetheless, apart from privacy and seat size (on many first-class flights, however, there are more private suites than conventional seats), there is not much scope to distinguish the offer noticeably from business class. A clear difference, however, is the price: tickets cost up to five times as much. Ouch.
So what do you get when you've put in half a year salary on your ticket? Firstly, very spacious seats (up to 81 cm wide with a maximum seat spacing of 2.34 m). The level of service is incomparable: the crew is well trained to read the passengers' every wish and not to be upset by celebrities on board. The quality of the food is also a few levels higher, and many menus and dishes are created by Michelin-starred chefs.
Emirates wasn't extravagant enough (once again), which is why first-class passengers in the A380 can enjoy two "shower spas" with heated floors - which in the end are nothing more than bathrooms. But even that is nothing compared to the Etihad A380. Here you have the choice between three different first-class suites, the culmination of which is The Residence: a three-room suite with living room, bedroom (with double bed) and private bathroom (with shower, of course). The price? Around 18,500 euros for a one-way flight from London to Abu Dhabi.
What you probably didn't know yet: In 1987 American Airlines saved an estimated EUR 36,000 by cutting an olive off every salad served in First Class.
Conclusion: economy class vs. business class
Economy Class offers the cheapest option for traveling quickly from one country to the next - but comfort in this class falls by the wayside. While the Premium Economy Class offers little for a higher ticket price, the price difference of the Business Class is noticeable: the additional comfort lets you arrive at your destination relaxed and well rested, which pays off especially on long-haul flights. On the other hand, very few of us will see First Class from inside. Take a look at the price differences between Economy and Business Class for yourself - not that bad, right?
Compare flight prices
Extra tip:
You can check websites like SeatExpert to find out more about seats on specific aircraft (and on different airlines). Alternatively, you can also find information about their classes and aircraft on the airlines' websites.
More tips for your flight