Should young people leave the house or not
Moving out at home: an important goal for most young people. But the feeling of being free and independent comes with a lot of responsibility. A lot has to be organized before, during and after the move. So that you can start as relaxed and well protected as possible, you will find a little help for a fresh start here. The essentials in brief:
Moving without professional help is not even half as expensive as a moving company
If you are a student, apprentice or low-wage earner, you can i. d. Receive financial support.
Immediately after the move, you should take care of insurance and administrative procedures in order to be optimally protected.
Look for and find an apartment
So that you feel comfortable in your first own apartment, you should be clear about your ideas and requirements. It is of course crucial whether you have the apartment finance yourself and alone can or receive a grant. Apartments inStudent dormitoriesorRooms in shared apartments are usually cheaper, but less flexible. A few questions will help you decide:
Are you looking for an apartment in a student dormitory, in a shared apartment or all to yourself?
What can you afford?
How big should the apartment be?
Where should the apartment be?
Are you moving in alone or with someone?
Do you want to keep a pet?
Do you need a parking space for your car?
Do you value extras such as a balcony, garage, garden, fitted kitchen, and shopping opportunities nearby?
Once you have formulated your wishes and found what you are looking for, the first viewings are due. Be sure to pay close attention to the on siteCondition of the apartment. If you have little experience with viewing apartments, it is best to bring someone with you. Parents or friends with their own apartment can help you and give you tips on what to look out for.

Good to know: If you are interested in renting an apartment, you usually have to give one to the landlordProof of incomepresent as security.
If you are convinced of the apartment, sign the rental agreement and the apartment will be handed over to you. Pay attention to peculiarities or defects and include them in oneHandover protocol for the apartment at.
Here you can find out what else you should consider when looking for an apartment, viewing and handover.
The initial equipment
Once you have secured the apartment, it goes to themBasic equipment. The first thing that matters is what is already in the apartment. Student dormitories or shared apartments are often equipped with the most important pieces of furniture. You usually don't need a kitchen or washing machine there. You also have to take care of electricity, heating and internet. d. R. don't care.

If you don't have the money for a completely new initial set of equipment, family and friends may be able to help. Also aboutFlea markets, second-hand shops and internet portals you can get cheap furniture and co.

Recipients of Hartz IV and unemployment benefits as well as top-ups also often receivegrants. You can usually finance the initial equipment inJob centreapply for. But only for the first apartment.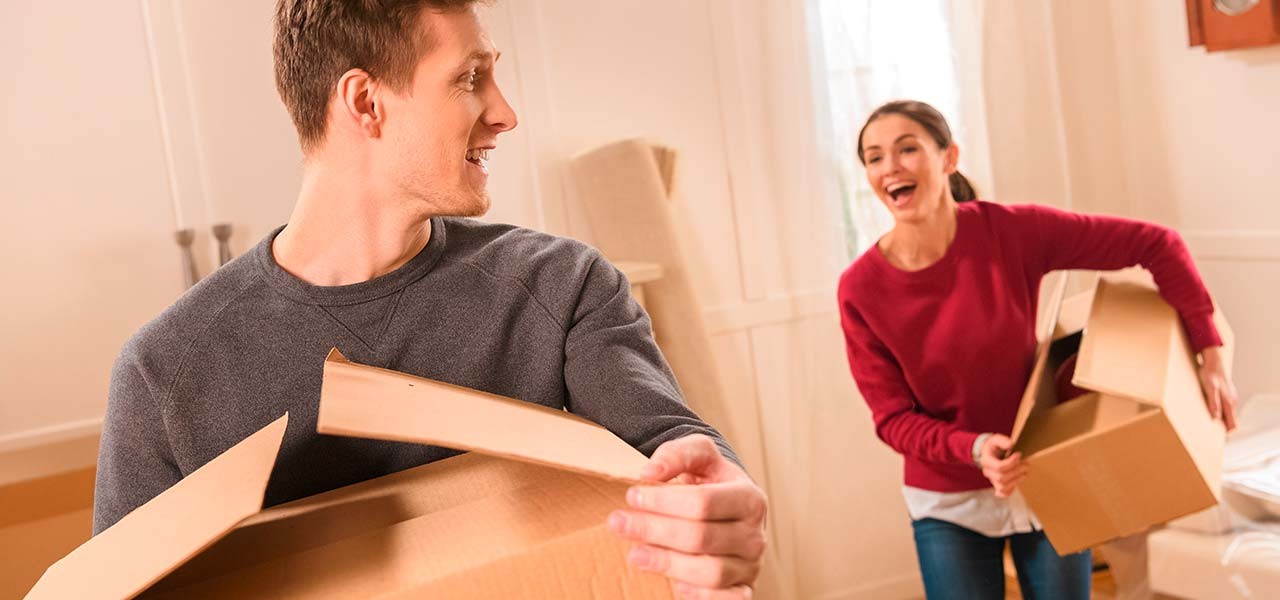 Organize a move
If you can move into the apartment, one question is crucial: will you organize the move yourself or do you hire a moving company? AMoving companyThis is useful if you cannot procure a vehicle, have little time or are physically limited. But then you have to expect higher costs. How much the moving service costs you depends on:
Scope of the removal goods
Removal of the apartment
Your own contribution
For small apartments a short distance away, you can useCosts from around € 500 calculate. For long-distance removals (from 120 km), double the amount is quickly due. If the moving company is also to take over the packing and unpacking, this costs about 200 € additional. Most moving companies charge around € 30 per hour for the effort itself.

Moving on your own can therefore save you a lot of money. OneTransporter for the move you can use for about100 to 200 € a dayrent. If you have friends and relatives who can help you with the transport, you can save even more money.
Organizational and paperwork
When the apartment is occupied and furnished, you probably want to put your feet up. But there is a lot to be clarified before and after the move.
Before moving:
Internet, cable TV and telephone: Select provider and check availability
Register electricity if the landlord does not do this
With children: early contact with the facilities when changing school or kindergarten
Apply for funding if necessary
After the move:
Registering or changing: Register your new main or secondary residence with the residents' registration office
Post: Report the move and set up the forwarding order
Change of address: change stored data in online shops, authorities, insurance companies, employers, etc.
Registration for the license fee
Take out or update insurance
Financial support and sponsorship
The new apartment can be expensive, especially for young tenants. If you are studying or training, you will quickly run out of funds. If you don't get support from your parents, you canRent subsidy and rent subsidy apply for.
BAföG
Students and trainees canFunding according to the Federal Training Assistance Act (BAföG) apply for. The amount of BAföG depends on:
Your own financial resources
The type of training
Parents' income
For example, the BAföG standard requirement for university students who no longer live with their parents is € 649 (as of 2017). Further information on BAföG can be found here.
BAB for initial training and dual studies
The so-calledVocational training allowance (BAB)yours if you have oneInitial training or a dual course of study complete. Provided that you can no longer live with your parents due to the distance to your place of work. The amount of the vocational training allowance depends on the needs of students. Information about requirements and requirement rates for the BAB can be found here.
Housing benefit
You are neither eligible for BAföG nor BAB, but still have too little income? Then you can contact the responsible housing benefit authorityHousing benefitapply for. Housing benefit is calculated individually for each individual case. The amount depends on the size of the household, income and rent.
Under certain circumstances, you can also apply for housing allowance, even if you are already receiving BAföG or BAB funding. Prerequisite: You live with someone who is not eligible for BAföG or BAB. You can find more information on housing benefit here.
Insurance
One thing you should definitely not forget after moving house is a adequate insurance coverage. Before moving out, you were probably covered by family insurance. If you no longer live at home, you will have to take out most insurance policies yourself. This may include:
Personal liability insurance
Household insurance
Health insurance
Disability insurance
For Students and people under the age of 25 There are often separate conditions for taking out and contributing to insurance. In the following article you will find out more about the special features and which other insurances can be important for your first home.
Conclusion:
The first apartment of your own means freedom and independence, but also a lot of responsibility. There are many things you have to consider when looking for and handing over your apartment. And even after moving in, there are usually still a few things to regulate. There is no avoiding organizational effort when moving, dealing with authorities and getting new insurance. But when everything is done, you can start the new phase of life all the more relaxed.
Informed and secure in every situation
Our recommendation: