Student exchange in Canada in paradise for skiers and winter sports fans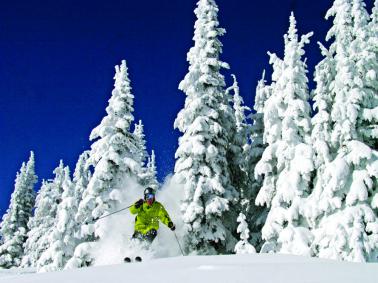 Exchange students who are enthusiastic about winter sports are especially in good hands in Canada. You can train intensively here or just have fun with numerous winter activities. It was not just since the Olympic Games in Calgary or Vancouver that people knew that Canada is an Eldorado for all winter sports enthusiasts. Whether cross-country skiing, downhill skiing, snowboarding, ice hockey, ice skating or curling, many regions of Canada offer ideal conditions for every winter sports enthusiast during a student exchange. Particularly interesting for students on their year abroad: Many school programs include special sports academies that offer a huge selection of sports, fun and outdoor activities either in their free time or even as part of the lessons.
On the information portal www.MyStudyChoice.de, pupils and their parents can research the large school database and organize their school year abroad themselves. For example, you can filter your personal wishes with regard to sports offers here and display all suitable schools. If the private school (boarding school) or the school district with accommodation in a family has been found, interested parties can contact the school using the form. In addition to a lot of individual information about the schools, the regions and the possible length of stay, the portal also transparently shows the costs incurred abroad. There is also a detailed guidebook about Canada, the school system and what students should do before the trip.

The winter sports Mecca of Canada is the Whistler Blackcomb British Columbia ski area, which is just a two-hour drive from Vancouver in the Rocky Mountain. The winter sports conditions are excellent here and in the ski resorts of British Columbia and Alberta. The season is very long (November to April). There are also beautiful winter sports areas in the provinces of Ontario, Nova Scotia and Québec.

At least as popular as skiing are snowboarding, ice skating, ice hockey, ice fishing and the outdoor courses with educational content in schools. Here, for example, students learn how igloos are built in winter camps. Or they go climbing, ice skating or typical Canadian curling.

The school ice hockey academy is also popular. It's about promoting the individual skills of the players and strengthening their self-confidence. Both beginners and advanced learners are welcome. By the way, curling, alpine climbing and ice scating are popular winter sports that are typically Canadian. For German students, Canada offers a great opportunity during a high school year to try out a new sport and make many Canadian friends.
Winter in Canada is an experience especially for outdoor fans: Despite the snow and the crisp and cold temperatures, especially inland, it is often sunny - the best conditions for a trip to the next ski area. Instead of skiing and snowboarding, you can go snowshoeing or dog sledding in the Canadian forests. As a rule, Canadian host families are happy to show their exchange students their wintry country.
Anyone interested in participating in a sports academy should know that there is usually a fee and that places for exchange students are limited. It is therefore advisable to register early if the student exchange is to take place in the 2018 school year.
Of interest to parents, but also to pupils: "The Pisa study 2015 provided insights into the positive influence that sport and physical education have on pupil satisfaction. Unfortunately, physical education in German schools is often neglected, and only a few regions in Germany offer such excellent winter sports opportunities as Canada, "says Thomas Eickel, high school expert and founder of the MyStudyChoice portal.

More information at www.MyStudyChoice.de

Contact: Thomas Eickel, Eickel Educational Services GmbH, Am Alten Mühlenbach 12, 53332 Bornheim, phone: 0162 4605050, email: [email protected]

Editor: Beatrix Polgar-Stüwe

MyStudyChoice is an information platform about the Canadian school system and addresses students and parents who would like to find out more about a school year abroad in Canada. The Canada school portal www.mystudychoice.de was set up by Thomas Eickel, who has been a high school advisor in international education for almost 25 years. Here he has put together his expert knowledge of the Canadian school system and country.