When will the immigrant caravan arrive in America?
Biden and migration: Are all roads leading to the USA again?
The images are unworthy of human civilization: security forces use tear gas and batons to attack people. Including women and children. This happened just under a week ago in the Central American country of Guatemala. The first so-called "caravan" of migrants could only be stopped by force. Isolated groups probably moved further north with the goal of the USA. The majority of the total of 9,000 people according to media reports withdrew - across the border to their home country Honduras.
"It really can't get any worse"
"The caravan from Honduras reflects the hope of many migrants who are connected to the new US president," writes Victor Clark, professor at San Diego State University and director of the Binational Center for Human Rights in the border town of Tijuana in an email exchange with the DW.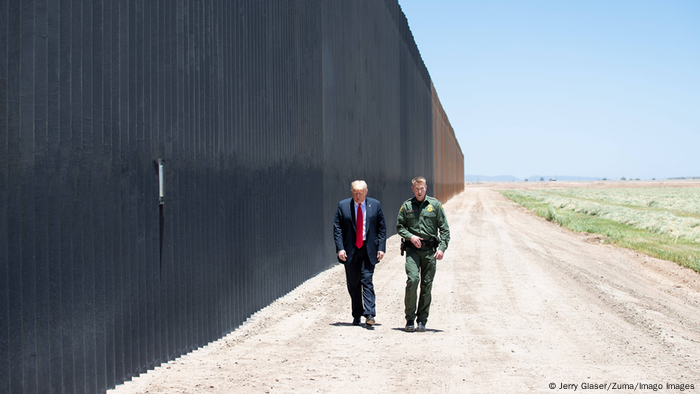 Trump's prestige project: the wall between the USA and Mexico
Clark has seen how the United States, under Donald Trump, has sealed itself off even further in recent years. Long before Trump's presidency, a wall of concrete and steel separated Mexican Tijuana from wealthy California. "Under Trump, part of it was modernized. This made it even more difficult to get to the United States." With Biden, human rights activists like Clark are hoping for a change in strategy. "It's possible that we might have too many expectations, but it can't get any worse."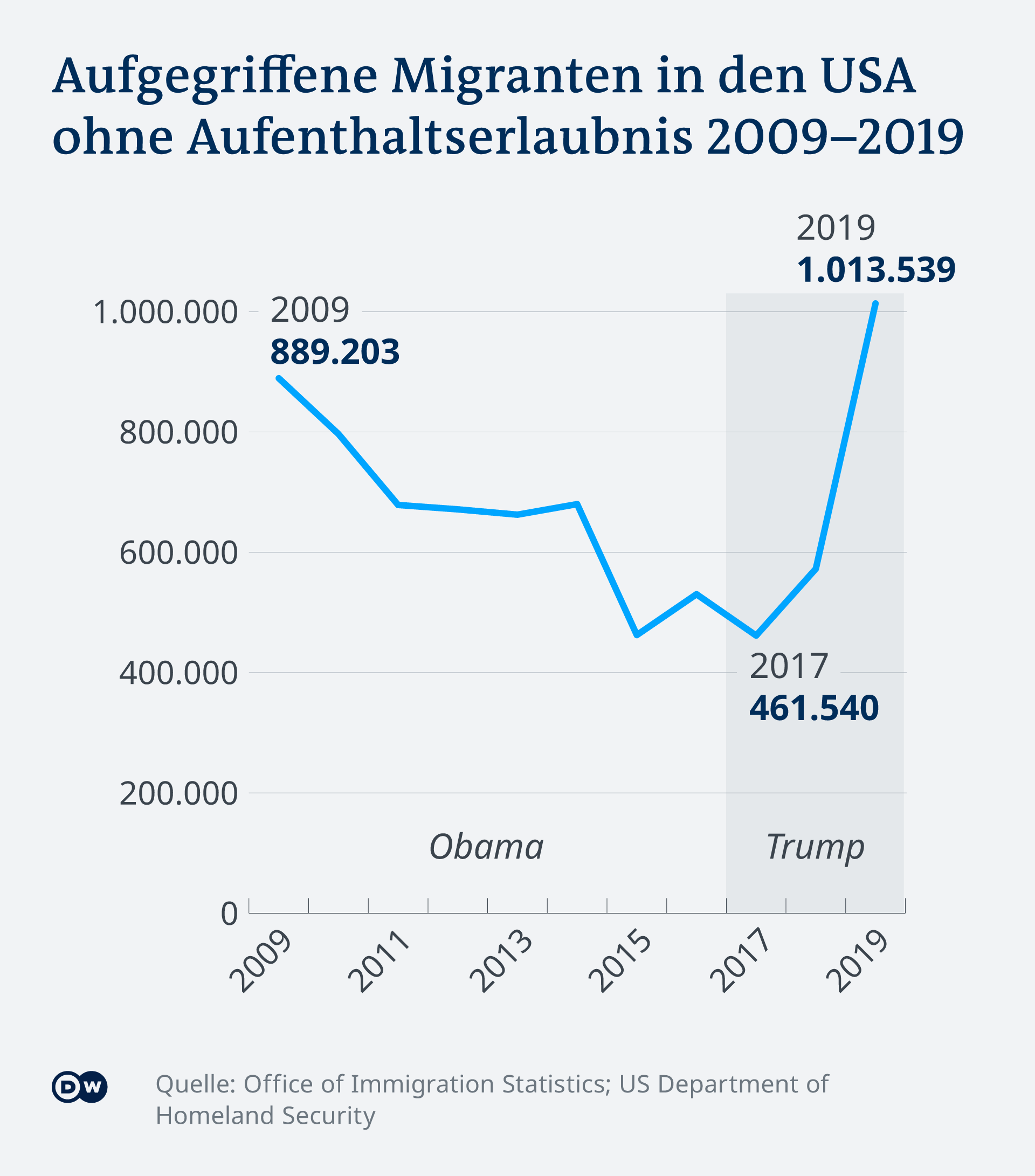 But the Biden government sent clear signals immediately after taking office. So Trump's heart project - the wall - is to be deprived of the financial basis. Biden has also already sent a bill to Congress. It stipulates that people without a residence permit in the USA should get a chance for a title - in the long term, US citizenship as well. That could affect around eleven million people. In addition, Biden issued a deportation freeze for 100 days. During this time, the US immigration regulations are to be revised. The new US president is also trying to find a balance when it comes to language: this is how the word should be "alien" - that is, stranger - through the word "noncitizen"- translated non-citizens - should be replaced in all legal texts in order to recognize" America as a land of immigrants ".
The director of the Latin America think tank "The Dialogue" in Washington, Michael Shifter, now expects a more humane approach to migration issues. "There will be a departure from the restrictive and cruel Trump policies," wrote Shifter in response to a DW request.
Especially in Central America around the so-called triangle, consisting of the countries Honduras, Guatemela and El Salvador, the expectations are high. The corona pandemic, natural disasters and the poor economic situation leave many people no choice but to migrate, reports Inés Klissenbauer, regional advisor at the Adveniat Latin American aid organization. "People don't just flee like that, but out of sheer need." Klissenbauer assumes that Biden will initially take care of the migrants who have been living in the USA for many years without a residence permit.
"Isolation, stigmatization and militarization"
But there are also many levers for realignment south of the US border. On the one hand, there is the decree issued by Donald Trump "Remain in Mexico". As a result, around 60,000 people have been deported from the USA to Mexico in the past two years. There they have been waiting - some for years - for their asylum procedure. The human rights organization Human Rights Watch is calling for an end to the decree and reporting on violence against families, rape and trauma across the US border.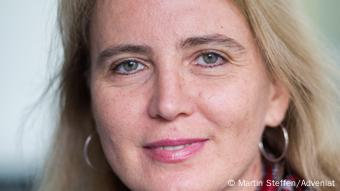 Inés Klissenbauer calls for a realignment of US migration policy
Also the militarization of the southern border as part of the program "Frontera Sur"has taken on new forms under Trump. His tariff threats on Mexican exports are said to have driven the incumbent Mexican President Manuel López Obrador to rearm and barely let migrants from Central America through. This is also reported by Victor Clark. In the border town of Tijuana, almost only internally displaced people from Mexico are currently arriving. This is partly due to the pandemic, but also to the increasing closure of the southern border between Mexico and Guatemala.
Inés Klissenbauer from Adveniat hopes above all that under Biden "migration to the USA will be possible again under regulated circumstances" and that the policy of "isolation, stigmatization and militarization" will come to an end. In addition, there is an urgent need for protection programs for people who are particularly at risk. As a template there is, for example, the one introduced by George Bush"Temporary Protected Status" (TPS). This enabled people from civil wars or natural disasters to get a temporary residence and work permit in the USA. Trump suspended the law.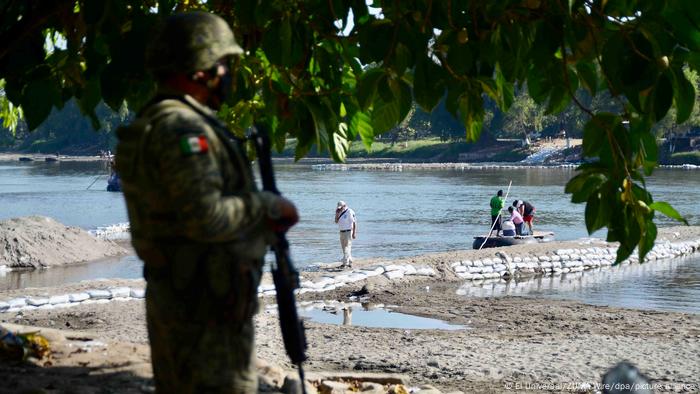 Well guarded: Mexico's southern border on the Suchiate River
Biden, who is said to be very close to Latin America, also wants to combat the causes of flight. In his letter to Congress, he promised $ 4 billion over the next four years for El Salvador, Honduras and Guatemala. Fighting the reasons for fleeing is the top priority, says Klissenbauer. "150 people flee Honduras every day. As long as these countries are in such a state, that will not change."
Risks of a new welcoming culture
Even if the signs point to change in migration policy, the Biden government must also politically implement the many proposed plans. Obama was also rather restrictive when it came to migration. The number of deportations soared in his first years in office. The much-criticized program today "Frontera Sur" comes from his reign. A government to which Biden was Vice President for eight years and whose attempt to reform immigration laws failed.
Michael Shifter from "The Dialogue" said he could imagine that Biden would be successful where his predecessors failed. But Biden also knows that a completely new welcoming culture "also entails great risks and could trigger refugee movements that will be difficult to control". Shifter therefore assumes that Biden will take a clear direction, but will proceed "slowly and carefully".
In Tijuana, the remaining migrants made hope again. "Above all, that it will be possible to apply for asylum again," reports Victor Clark. The human rights activist does not believe that something could change radically overnight - he has seen too many presidents for that. The wall on his doorstep has grown thicker and thicker since then. "It is already part of the image of our urban border landscape. It will not disappear. I can no longer imagine that either."
Central America: The "caravan" has stopped

North together

Last week, thousands of people gathered in San Pedro Sula, the second largest city in Honduras, to make their way to the United States. Your way leads through Guatemala and Mexico. The routes to Texas are 3,000 kilometers long, the routes to California 4,500 kilometers. Nowhere will they be really welcome.

Central America: The "caravan" has stopped

Poverty, crime and the force of nature

Honduras is one of the poorest countries in Latin America. For some years now, criminal gangs have increasingly taken control. The state can hardly protect its citizens against them. Then in November 2020, two hurricanes left tens of thousands of people homeless and plunged the country into an additional crisis. More than a third of the population is said to be directly affected by the consequences.

Central America: The "caravan" has stopped

Hope for biden?

The election of the new US president may have spurred people's hopes of being granted asylum in the US. Joe Biden's employees have already indicated that the US border will not open overnight. Biden had announced a milder migration policy during the election campaign. Above all, he wants to strengthen the countries of origin so that people stay there.

Central America: The "caravan" has stopped

Guatemala does not want to let migrants through

Last weekend the new "caravan" reached the border with Guatemala. The local authorities asked the migrants to return, but in the end they were allowed to pass. There were too many women and children among them to stop them forcibly, it was said officially. According to the Guatemalan authorities, at least 9,000 Hondurans had crossed the border by Saturday.

Central America: The "caravan" has stopped

Police stop migrants

About 50 kilometers further, in the hamlet of Vado Hondo, the police blocked the way for a group of around 3,500 migrants. When they wanted to break through the lock, according to the official statement, they fought with batons and tear gas. According to the UN refugee agency UNHCR, eleven migrants and two police officers were injured.

Central America: The "caravan" has stopped

Mexico is also closing

A few hundred migrants are said to have managed to continue on their way. They won't get too far if the security forces have their way. Mexico has now also increased its presence on its border with Guatemala.

Central America: The "caravan" has stopped

Buses home

Authorities from the USA, Mexico and Guatemala have made it clear to the migrants that their plans will not be tolerated. As a way out, the Guatemalan immigration authorities offered them to take them back to their homeland by bus and truck. Less than 1,600 have followed this so far, it was said on Monday morning.

Central America: The "caravan" has stopped

Not the first caravan

Since 2018 people from Central America have made their way north in large groups. In particular, from the poorest countries in the region, Nicaragua and Honduras, people are fleeing poverty, crime and authoritarian state power. At that time, the term "caravan" was also used by migrants. The current one is unlikely to have been the last.

Author: Jan D. Walter