They know you are from Nigeria when
Why are so many Nigerians turning their backs on their homeland?
Every second Saturday evening, George Okeke (name changed by the editorial team) meets around 30 compatriots in an intercultural meeting center. The Nigerians supported each other, discussing legal problems or difficulties at work in Germany, for example. One goal, explains Okeke, is also to dissuade other Nigerians from the plan to come to Europe: "If you are doing reasonably well, you'd better stay in Nigeria. There isn't much for you here in Europe."
Okeke himself has been in Germany since 2001. The now 50-year-old came with a business visa that was valid for one month. But he met a German who became pregnant. As the father of the child, Okeke was able to stay in Germany; he now has a small company and exports used tires to Nigeria.
But Okeke's story is more of an exception. Most Nigerians have little chance of being able to stay legally in Germany or any other European country. Of the tens of thousands of asylum seekers from the West African country every year, only a few percent are recognized. But that doesn't seem to hold back many: In 2017 Nigerians were the fourth largest group of first-time applicants in the EU after Syria, Afghanistan and Iraq. And then there are those who are illegally in Europe.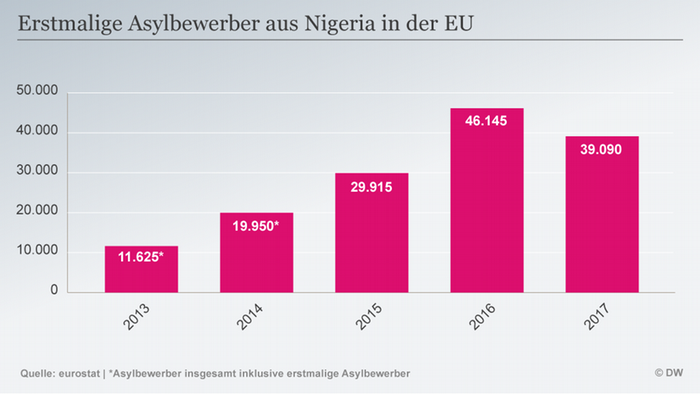 Although the country is also the second best performing economy on the continent after South Africa, the poor majority of the population - thanks to rampant corruption and unequal opportunities - does not benefit much from it. The falling oil price and the Boko Haram terror militia, which is particularly active in the northeast, have also affected the country in recent years.
Terror is not the main reason
However, the Nigerians who come to Europe for the most part have not fled Boko Haram. Of the almost 1.8 million displaced by the Islamist group, most have sought refuge in other parts of the country, some in neighboring countries. Because they hope to be able to return to their home villages at some point. The government under President Muhammadu Buhari has already announced several times that Boko Haram has been "technically defeated". In fact, however, there are still attacks and kidnappings. The militia has been responsible for the deaths of at least 20,000 people since 2009.
So who are the ones who dare to make the dangerous journey to Europe, during which not a few are stranded in the most deplorable conditions in the transit country Libya? According to Bibiana Emenaha, they come mainly from the southern states of Edo and Delta. The nun should know. She and her co-sisters run a welcome home for victims of human trafficking in Benin City. The provincial capital of Edo has been Nigeria's stronghold for migration and human trafficking for decades. Emenaha explains: "We don't have a war here, so I wouldn't talk about flight or refugees. Most of them just want to improve their economic situation, because unemployment is a big problem here."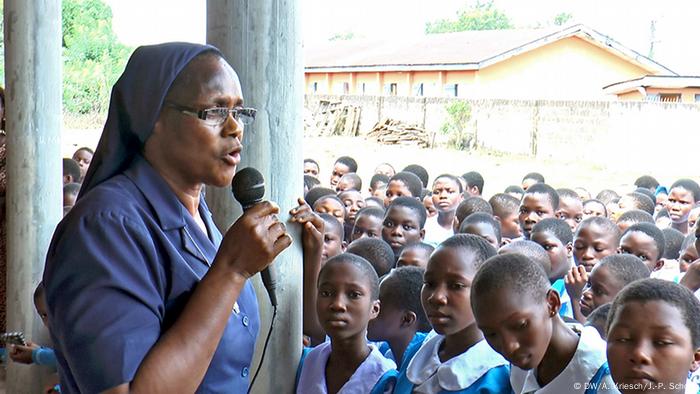 Sister Emenaha educates schoolgirls about human trafficking (archive image)
The 59-year-old is addressing one of several components that are the reason for the many Nigerian emigrants. Not least because of the strong population growth, Nigeria has to contend with high unemployment. Even those with a good education struggle to find a job. According to the national statistics office, just under 19 percent of those able to work were unemployed in autumn 2017 and more than as many were underemployed. More than a third of those under 25 were unemployed.
Most of the citizens are below the poverty line
Okeke also says that most Nigerians have a completely unrealistic idea of ​​Europe: "They have images of functioning electricity and well-developed highways in their heads and think that the money is here on the streets." But even for those who can remain legally for reasons of family reunification or sexual persecution - homosexuality is a criminal offense in Nigeria - the calculation of getting a good job within a short period of time often does not work out. Bureaucracy and language barriers are often higher than expected.
In a way, it is true that Europe has a better chance of making things happen. At least there are often better social safety nets and more educational opportunities. In contrast, Nigeria is a country in which the differences between rich and poor are extreme. On the website of Oxfam, an international association of various aid and development organizations, you can read: "Although Nigeria is not a poor country overall, millions are suffering from hunger. The country would have the economic possibilities to lift these people out of poverty. " But that doesn't really seem to be a priority for the government: In the "Commitment to Reducing Inequality Index", a global ranking that compares the efforts of countries to combat inequality, Nigeria comes in at the bottom of the ten. In terms of spending on health, education and the social protection of its citizens, it even ranks last.
"You need an entry fee for the trip"
Often it is not the poorest of the poor who leave for Europe in the hope of a better life, but rather the lower middle class. Because "in order to even raise the entry fee for the trip, many borrow money, sell their car or a piece of land belonging to their family," says Okeke. Emenaha also confirms this. This is also the reason why some migrants refused when Nigeria tried to bring compatriots back from Libya at the beginning of the year. They got into debt before they left.
Returnees who are unsuccessful are often worse off than before. Not only the money, but also the reputation is then gone, explains Okeke: "If you don't have an expensive car or a beautiful house in Nigeria, then you won't be respected. If you come back poor, you're a total loser." Okeke finds it remarkable that in Germany it doesn't really depend on how rich you are: "Even richer people sometimes prefer to take the train or share a car, that's a completely different mentality."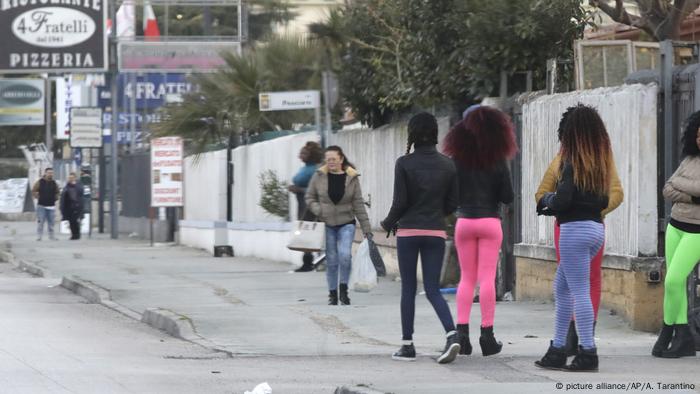 Nigerian women sell their bodies in Castel Volturno on the west coast of Italy
Nigerian Prostitutes - A common street scene
One group that has now gained notoriety among Nigerian migrants are prostitutes. Especially in Italy, they are already part of the street scene in some cities. But there are also many prostitutes from Nigeria in Germany, as Lea Ackermann, founder of the human rights organization SOLWODI ("Solidarity with Women in Distress") reports: "Among the women we are currently dealing with, the largest group is Nigerian women . "
Most of them stayed in Germany illegally, according to Sister Ackermann. For some of them, SOLWODI can provide legal assistance and help them obtain a residence permit if, for example, it can be proven that they are victims of human trafficking, forced marriage or genital mutilation.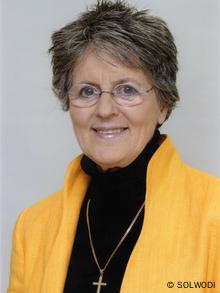 Sister Ackermann: "Human trafficking is booming in Germany"
According to Ackermann, the women were hired by human traffickers in Nigeria who shamelessly exploited their desire to go abroad and from there to support their families financially. "Many of them probably already knew more or less what to expect in Nigeria, but some also thought that they would work as a babysitter or cleaner." The problem is sometimes voodoo rituals with which women are made compliant, Ackermann continues. Make them swear not to betray the traffickers and to repay the passage from Africa to Europe.
According to Okeke, the only way to prevent Nigerians from crossing to Europe permanently is to make Nigeria a less corrupt country with more equal opportunities. "Politicians and entrepreneurs must stop putting money into their own pockets. That is what is ruining our country." Okeke himself plans to return to Nigeria in a few years. Aside from all the troubles, it's still home to him.